Date: Mar 24, 2020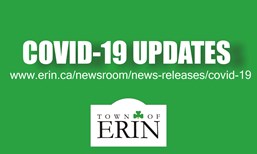 On Thursday, March 26 from 7:00 p.m. to 8:00 p.m., the Town of Erin will host a Telephone Town Hall to answer questions regarding the evolving COVID-19 pandemic.
A Telephone Town Hall is a large scale conference call that allows people from various location to call-in and participate in a town hall style meeting.
The hour session will be a question and answer period with Town of Erin staff members and Mayor Allan Alls.
A reminder call will go out to residents the evening before, if residents do not receive a call on March 25, they are able to dial into the call on March 26 at 7:00 p.m.
Those wishing to participate can do so by calling: 1.855.756.7520 EXT. 57734#
For more information on COVID-19 Click Here