Due to the ongoing threat of COVID-19 and following the Provincial and public health directives, the Town of Erin has made the decision to cancel town-run summer camps for the summer of 2020.
Staff will be in contact with residents to issue refunds in the coming weeks, please be patient as we work through each refund. Residents should expect to receive a refund or credit on account by July 6, 2020.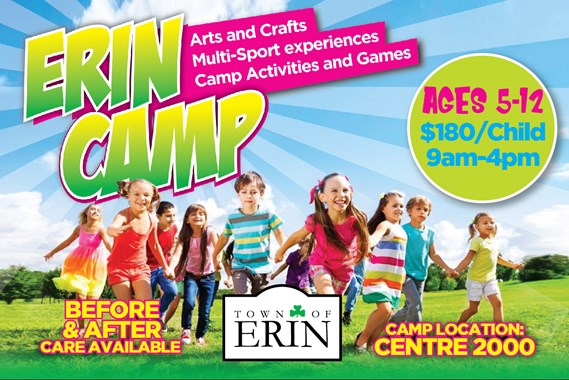 It's the ultimate summer experience! Join friends and make new ones in a camp that has something for everyone. With a unique theme each week, campers will enjoy a range of indoor and outdoor activities, including a variety of sports, games, music, arts and crafts.
We provide children with an opportunity to gain knowledge and develop skills and experience in all our activities. The non-competitive format encourages camaraderie and sportsmanship among the children. Campers spend the vast majority of each day being physically active and learning the fundamental skills for a life of active living and sports enjoyment.
For more information contact Recreation@erin.ca or call 519.833.2114 EXT. 426
Our Full Day Camps run 9:00 AM - 4:00 PM and offer a wide variety of themes that are creative, inspire learning and teach fundamentals in sports and fitness.
Extended Care (EC) hours are available before and after Camps $25/week per child (7:30 AM - 9:00 AM / 4:00 PM - 5:30 PM).
In order to provide a safe and enjoyable program, age restrictions are applied to our camp programs. Campers must be the minimum age required on the start date of the program.
Camps are affordably priced where Full Day Camps start at $180 per child - that's only $36 per day! Financial assistance programs may be available through EWCS http://www.eastwellingtoncommunityservices.com.
Our Staff
The Town of Erin places a strong emphasis on hiring mature, enthusiastic, and qualified staff. Staff are required to be certified in First Aid, CPR and AED. All Town of Erin Day Camp staff are required to attend pre-camp summer training sessions, including sessions on policies and procedures, risk management, inclusion, bullying prevention, and program planning. All staff must also pass a Police Vulnerable Sector Check before they are offered a position.
Our Facility
CENTRE 2000 is a unique multi-purpose facility housing the Erin Community Centre (ECC) with an Arena, Skateboard/ BMX Park, Baseball diamond, Tennis courts, Soccer field and Community Rooms. Also within Centre 2000, is a live performance Theatre and the Erin Public Library. 
Volunteer Today!
Join our team of Camp Leaders and make a difference. We believe that a kid's camp experience begin with amazing people like you. Make lifelong friendships and have fun while helping kids prepare for the future. Contact recreation@erin.ca or 519.833.2114 EXT. 426
Children with Exceptionalities or Special Requirements
We strive to ensure the successful and safe participation of all children in our camps. If your child has a special need or health condition, we ask for your help in letting us know during the registration process. Please contact us at 519.833.2114 EXT. 426, to discuss how we can best support your child's needs.