The Town is responsible for implementing a winter control program to clear all Town roads. This includes snow, sleet and freezing rain, which may require sand and salt to be applied to the road surface. The Town of Erin Roads Department staff make every effort to ensure that Town roads are adequately cleaned to provide safe travel to all. 
A routine daily winter road patrol is completed to identify problem areas and to give appropriate attention to them . 
Trucks with flashing blue lights are performing winter maintenance. Please give them room to work and pass them with caution as visibility may be compromised by blowing snow. if a snowplow stops, it is likely to back up, so please give them lots of room. You may be able to see them, but if you are driving a small car they may not see you if you are following too closely. 
Plowing/ Sanding
Depending upon the severity of the storm, it takes approximately six to eight hours to clear all of the Town of Erin's roads. We appreciate your patience during these busy times as we work on providing safe roads to travel on. Please note that despite our best efforts, it is not possible to plow Erin's roads and sidewalks without blocking driveway entrances. It is the property owner's responsibility to safely clear the snow from their driveway entrance, from around their own mailbox and around a fire hydrant is there is one. 
After a major storm, the rural road snow banks may be pushed back to allow for the next snow fall. This makes the road appear wider than they are and the ditches are hidden. Please use caution when pulling over to the side of the road, as you may underestimate the width of the road.
During the winter season, Town operators require your cooperation regarding obstructions at the end of driveways. If you have a feature at the end of your driveway beyond the ditch line or curb, please remove or relocate it to ensure the safety of the Town operators, Town equipment and all residents. Your cooperation is greatly appreciated. 
Parking
Please note that during the winter months (November 1 - March 31) the Town of Erin By-Law #5000-05 restricts parking on any Town of Erin road between 2:00 AM and 6:00 AM. Residents are encouraged to keep in mind the challenges of plowing snow around cars parked on the streets.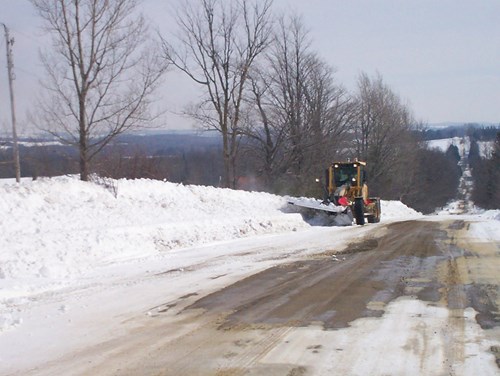 Snow around hydrants
If there is a fire hydrant in front of your home or property, it is your responsibility to maintain the hydrant such that it is accessible to the Fire Department at all times, and to remove all vegetation, snow, or debris within 2 feet of the fire hydrant.
Damaged Mailboxes
Current policy states that the Public Works Department will only replace a mailbox if it has been physically hit by the snowplow. Mailboxes hit by snow coming off the plow will not be replaced by the Town. The responsibility for maintaining mailboxes lie with the owner of the box. Mailbox owners are requires to repair their own mailboxes that have been damaged by snow impact. 
Please follow the Canada Post's Mailbox Installation guidelines when installing your mailbox.