Purpose
Formed in 2005, the committee is committed to the beautification and revitalization of Trafalgar Road and nurturing a sense of community in the village of Hillsburgh.
NEW!!! Commemorative Stamps
The Let's Get Hillsburgh Growing Committee, in conjunction with Canada Post, has released the official 200th Anniversary commemorative "Hillsburgh" stamp.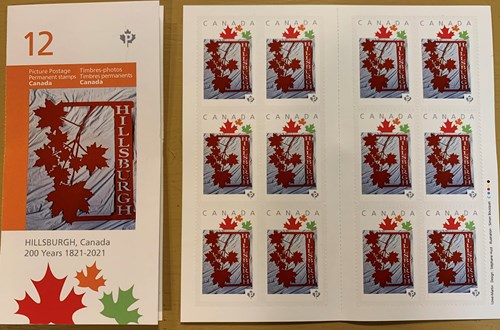 Just in time for the holidays, these stamps are the perfect way to both support a
nd celebrate our wonderful community. Designed with the distinctive maple leaf Hillsburgh sign we have all come to recognize when driving through our beautiful town, these stamps will bring a little joy to anyone who receives them.
At just $15.00 per book (cash only), they are a very affordable way to spread a little Hillsburgh love this holiday. 
Available at  QuickPick Convenience and Video, 99 Trafalgar Rd, downtown Hillsburgh, this booklet of 12 "Hillsburgh" Canadian Post domestic mail stamps can be used for regular mail, sending holiday cards, keep as a souvenir, or give to a current or former resident as a gift.
---
Members
The LGHG Committee members are interested citizens and representatives from businesses and community groups in the Hillsburgh area. 
---
Meetings
The LGHG Committee meets on the third Wednesday of the month at 7:00 PM at the Municipal Office 5684 Trafalgar Rd. Hillsburgh.
---
Activities
Every year, the Let's Get Hillsburgh Growing Committee is responsible for:
The hanging baskets and planters that adorn Trafalgar Road during the summer
Replacing the hanging baskets in the winter with wreaths
The colourful laser-cut steel signs that hang on the hydro poles on Trafalgar Road. This multi-year project is almost complete and has created a striking streetscape for Hillsburgh.
Spirit of the Hills, Hillsburgh's Family Fun Day.   Since 2006, the LGHG Committee has presented this fun-filled event on the main street of Hillsburgh.  Held on the third Saturday of August, Spirit of the Hills Day includes a classic car show, children's games, musical entertainment and vendors.
Entrance signs.  The LGHG Committee is currently in the process of selecting a design for and fundraising for new entrance signs to the village.
2017 LGHG Brochure Terms of Reference
All entries to be in by Sat. Oct. 15th. Please submit your entries to lghgcommittee@gmail.com