Facts about the Town of Erin Property Taxes
The tax rate increase in Erin is lower than inflation on average.
Within the County of Wellington, the Town of Erin's average tax rate increase is the lowest.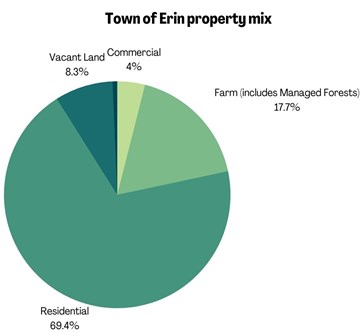 The property mix in Erin is dominated by residential properties, followed by farms, vacant lands and finally commercial properties. Commercial and industrial properties contribute approximately 2.4 times the amount towards taxes than residential properties - so having more businesses come to our community helps everyone.
About Property Tax
Property tax is the major source of revenue for the Town of Erin
Property taxes help pay for the costs of services and facilities that the municipality provides to residents.
Property taxes required each year are spread out over all properties, based on Municipal Property Assessment Corporation assessment value and property type
In Erin, property tax is divided into three – School Boards (Province of Ontario), County of Wellington, Town of Erin
Every tax dollar collected is divided: 17 cents to the School Board; 56 cents to the County of Wellington and 27 cents to the Town of Erin
 Property taxes required = projected expenditures - projected revenues
 Assessment Growth and Relationship to Budget
Assessment growth = new properties added to the tax roll in current year
Funds collected from assessment growth = revenue added to the budget
A portion of growth costs are offset by assessment growth revenue
Balance of funding required to pay for services provided by the municipality is spread among all properties
Growth from one year become part of base budget in the following year
 Property Taxes and MPAC
Property taxes are based on the following:
Assessment by Municipal Property Assessment Corporation (MPAC)
Assessment base = value of all properties put together
Budget = how much it costs to provide service to all properties
Tax rate = Budget ÷ Weighted Assessment Base